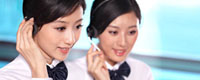 Tel: +86-13165000892
E-mail: heracleschina@yeah.net
E-mail: heraclesloader@hotmail.com
E-mail: info@heraclesloader.com
Add: Dazeshan,Qingdao Shandong,CHINA




Company News
>> HERACLES machinery signed the new Project of wheel loader production
In December 29, 2017, the signing ceremony of HERACLES machinery manufacturing project was held in the conference room of County Investment Promotion Bureau. Li Jia, chairman of HERACLES Machinery Manufacturing Co., Ltd. and Guo Zhixiang, standing committee member and executive vice-mayor of the county committee, signed the agreement together. Guo Xiaobo, general manager of HERACLES Machinery Manufacturing Co., Ltd., Wei Mingchao, Deputy Secretary of the county Party committee, and Zhang Xuebin, vice chairman of the CPPCC, witnessed the signing ceremony.
Haiglisi Machinery Manufacturing Project mainly produces small loaders and electric engineering vehicles, such as wheel multi-functional backhoe excavator, full-wheel steering wheel multi-functional loader. The main investor of this project is Qingdao Haiglisi Machinery Manufacturing Co., Ltd. The company was founded in 2008, located in Shahe Town, Laizhou City (the township of small-sized machinery in China, with an annual output of 200,000 sets, accounting for 70% of the market share of small-sized excavators and loaders in China). The company has branches in Qingdao Pingdu City and Weifang City, respectively, and technical research and development. Center.
The HERACLES machinery manufacturing project initially selected the agricultural machinery equipment manufacturing industrial park, with an area of 32000 square meters. The project is divided into two phases, of which the total investment in fixed assets such as equipment in the first phase is 500 million yuan. The main projects are to build a small-scale loading machine production line, testing line, etc. The relocation of an automatic electrophoretic coating production line, the acquisition of laser cutting machine, underwater plasma cutting machine, flame cutting machine, shearing machine, bending machine, welding. Robots, molds and other equipment, annual output of 15,000 small-scale loading machinery; the second phase of planning covers an area of 500 mu, annual output of 80,000 small-scale loading machinery and electric engineering vehicles.
The project will fill a gap in the field of small-scale loading machinery manufacturing in our county and even Jingmen City, further extend the production chain of agricultural machinery equipment manufacturing industry in our county, and promote the development of the County Machinery industry.