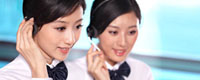 Tel: +86-13165000892
E-mail: [email protected]
E-mail: [email protected]
Add: Shandong,China



Product name : New Generation H580 loader with advanced functions

Product No. : 202192615573
Details:
Technical New Features s:

1. It is equipped with 3-way hydraulic system as standard. You can add 4 routes,
2. 100ml flowing
3. with Floating function standard configuration
4. Boom shock absorption
5. Centralized lubrication for option
6. Standard with One button start
7. Connect the computer to check the fault. You can see which connector is broken easily .
8, standard 76 yunnei with electric control
9. Euro 5 xinchai can be selected
10. With big rear view display
11. With import Germany working valve and joystick valve
12. With Password lock
13. With new joystick handle
Performance

Model

H580

Rated loading

2800kg

Max loading

3500kg

Operation weight

6170kg

rated bucket capacity

1.2m3

Max. tractive force

≥54KN

Max. breakout force

≥45.4KN

Max. grade ability

30°

Max. dump height

3300mm

Dump distance

930mm

Overall dimension (LxWxH)

6170x2040x2695mm

Min. turning radius

4510mm

Engine

Model

Yunei 76kw or XINCHAI EURO 5 Engine

Type

Vertical, in-line, water cooled, 4-cylinder, turbo type

Rated power

76KW / 2400rpm

Max. torque

285N.m

Displacment

3.76L

Transmission system

Torque converter

ZL280

Gearbox mode

Contershaft, power-shift

Gear shift

2 forward (1 high speed, 1 low speed), 1 reverse

Max. speed

35km/h

Drive axle

Main reducing spiral

Circular Arc Bevel gear, single stage

Decelerating mode

Single stage planetary type

Wheelbase

2470mm

Track base

1570mm

Min. ground clearance

390mm

Hydraulic system

System working pressure

16Mpa

Boom lifting time

4.8s±0.2s

Total time

9.2s±0.5s

Fuel tank capacity

80L

Function of leveling automatically

Yes

Brake system

Service brake

hydraulic disc brake on 4 wheels

Parking brake

flexible shaft operated external drum

Tyre

Tyre size

16/70-20

Front tyre pressure

0.22Mpa

Rear tyre pressure

0.18Mpa