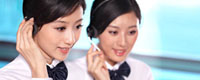 Tel: +86-13165000892
E-mail: [email protected]
E-mail: [email protected]
Add: Shandong,China



Product name : Heracles loader ( H580)

Product No. : 01

Price : USD13000-USD14998
Details:
HERACLES LOADER – H580 WHEEL LOADER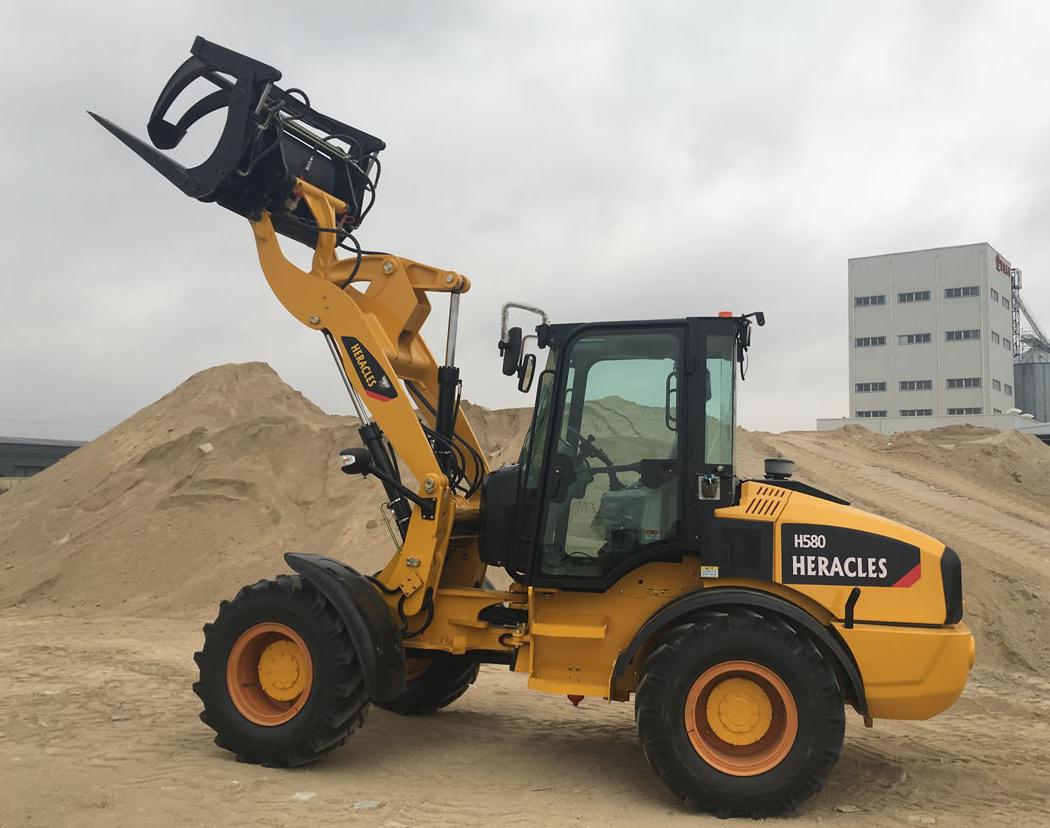 HERACLES H580 Wheel Loader is one of the most reliable and powerful wheel loaders in the market today. HERACLES H580 Wheel Loader with a
powerful 116hp China Xichai engine, also can assemble a 103 hp CUMMINS engine ( or EPA 4 Kohler engine )
and superior hydraulic system enables it to perform optimally in the most extreme conditions. HERACLES H580
Wheel Loader has a strong breaking force and a maximum loading capacity of 3500 kg (6800 lb).
The multi-functional joystick and quick change system allows operators switch attachments and
tackle different tasks effortlessly. Its range of attachments include snowblowers, augers, bale grabbers,
brooms, excavators and tree transplanters, making the H580 Wheel Loader extremely versatile.
1, HERACLES H580 Wheel Loader ENGINE :
Standard H580 loaders come with one China Famous brand engine -Xichai engine .The power reach
85KW (116HP).
Also standard with the easiest to maintain and most reliable engines - CUMMINS. A high performing
4-cylinder diesel engine.
H580 heracles loaders Engine: CUMMINS
H580 heracles Power: 76 kW / 103 hp
Heracles machinery Max. Torque: 285N. m
QINGDAO HERACLES H580 loader Max Speed: 2400 rpm
ISO 9242: 74 kW / 96 hp
80/1269/EFC: 74kW / 96 hp
HERACLES LOADER H580 Diameter: 102 mm
HERACLESLOADERS Stroke: 115 mm
HERACLESLOADERS Displacement: 4.3L
heraclesloaders H580 Optional Engine : EPA 4 Kohler engine
2, CABIN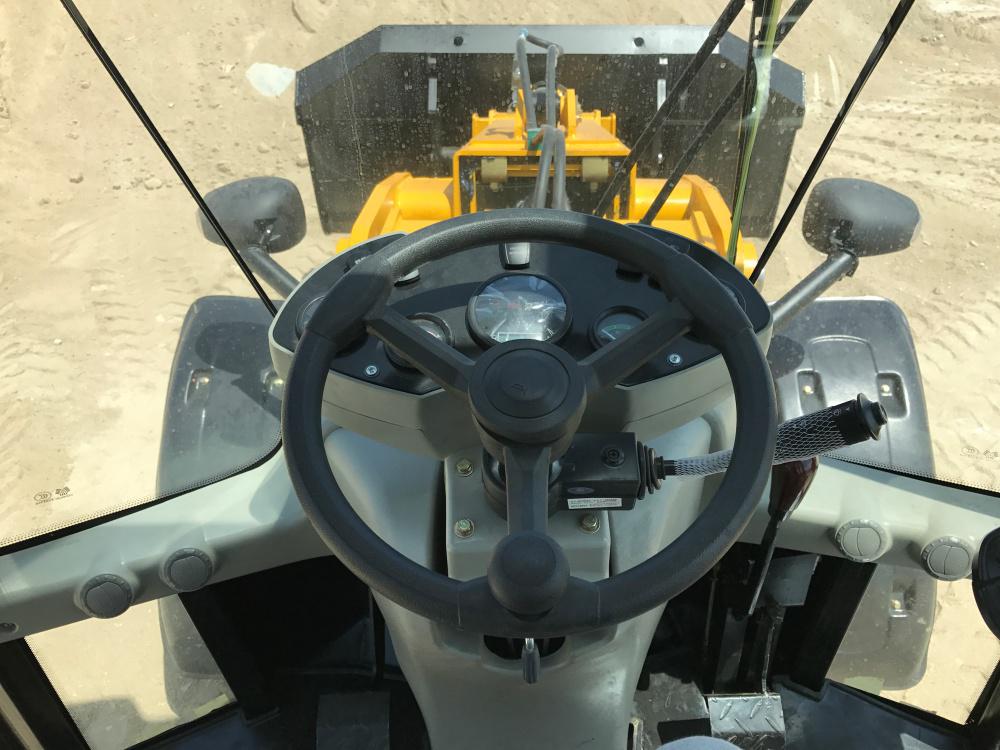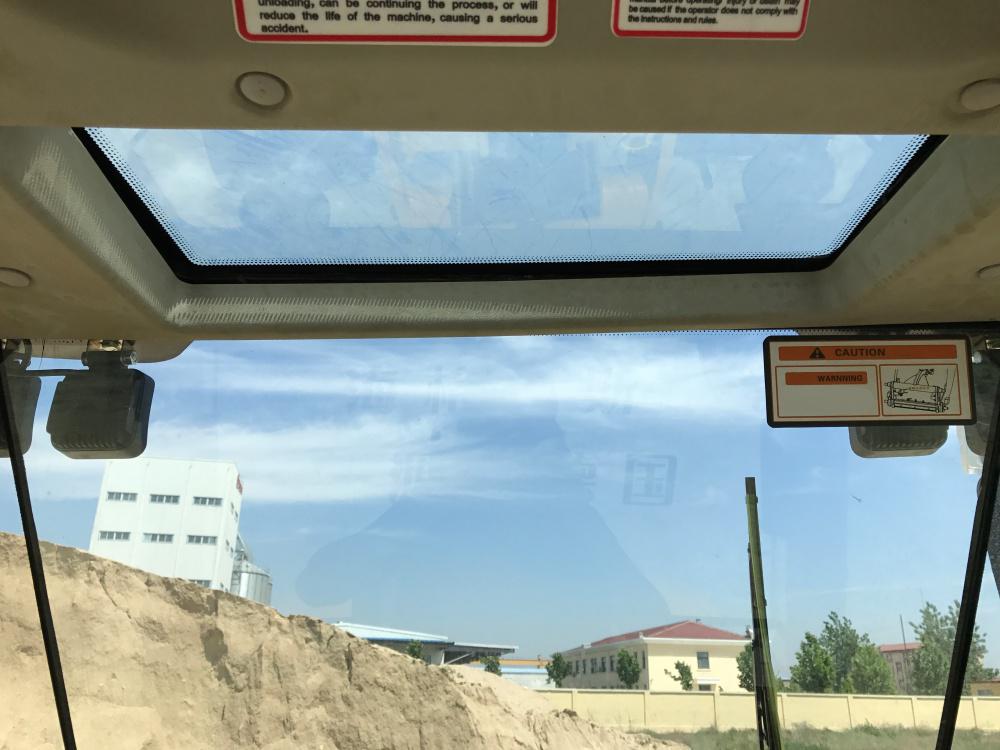 (1) COMFORT
The first thing you notice when you climb into the cabin is the extra leg-space, modern design and panoramic views.
(2)ENVIRONMENT
Heraclesloaders The cabin is completely sealed from the outside, and the even airflow within the cabin allows the operator to work in
a clean, dust-free environment. The cabin has been designed and insulated to keep outside noise and vibration
to a minimum. Standard features include USB ports and a radio.
(3)OPERATING
Qingdao heracles loader All tasks can be carried out by one simple multi-functional joystick placed on right hand side of the cabin. From the
multi-functional joystick the operator is able to electrically shift gears, change driving direction and operate the attachment.
Auxiliary hydraulics are also place here allowing the operator to have his left hand fixed on the steering wheel.
(4)AIRFLOW
All loaders are fitted with quality air heaters which provide an even flow of warm air throughout the cabin. Air condoning
create a cool feel for those hot summer months.
(5)FLOATING SEAT
Our new Heracles Floating Seat with its fully adjustable armrest and adjustable one-piece steering wheel and dashboard
create the ideal working space for the operator, reducing fatigue and improving performance.
(6)DASHBOARD
The dashboard has analog and LED which keeps the operator informed of the loader's status, letting the operator
immediately know if the loader needs maintenance.
(7)PEDALS
Heracles H-Series Compact Wheel Loaders are extremely easy to drive. The gas pedal on the right and the inch
brake pedal on the left allow the operator to the safely drive the loader even in an urban environment.
3, HYDRAULICS, BRAKES, AXLES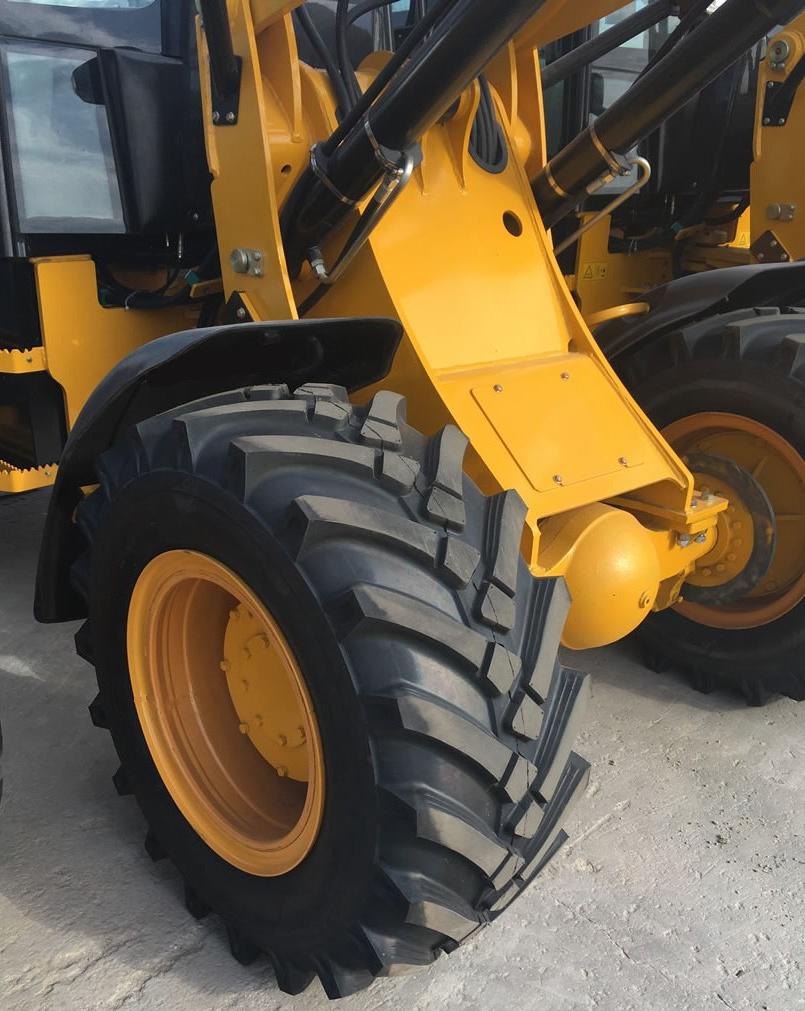 The 103 hp engine powers the hydraulic system, which works in total synchrony with the geared transmission and axles.
HYDRAULIC SYSTEM
Main valve pressure: 235 bar
Displacement: 62 L/min
Smooth Working Cycles:
- Lift 5 secs
- Down 4 secs
- Dump 2 secs
- Tilt 2.5 sec
AXLES
Heracles Heavy Wheel-Side Deceleration Axles have been designed, and manufactured with the best materials,
to withstand the most extreme terrain and conditions - they guarantee reliable and superb performance.
BRAKES
The disc brakes to the forward and rear axles are hydraulically controlled - this double loop system providing
a powerful and safe braking force.
4, Z-BAR LINKAGE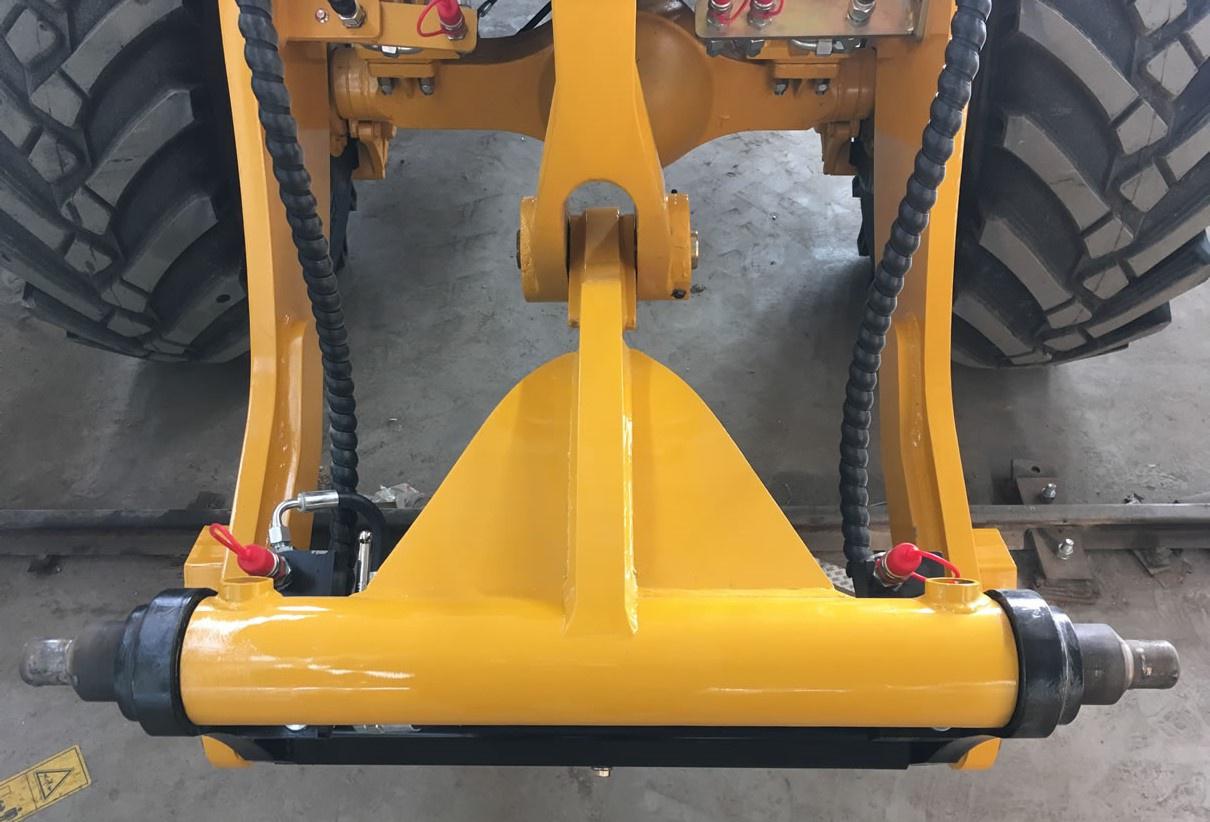 The Z-Bar Linkage design reduces operational stress and maximizes digging performance. The also provides the
operator a clear view of field allowing him to work safer and more efficiently.
5, QUICK CHANGE SYSTEM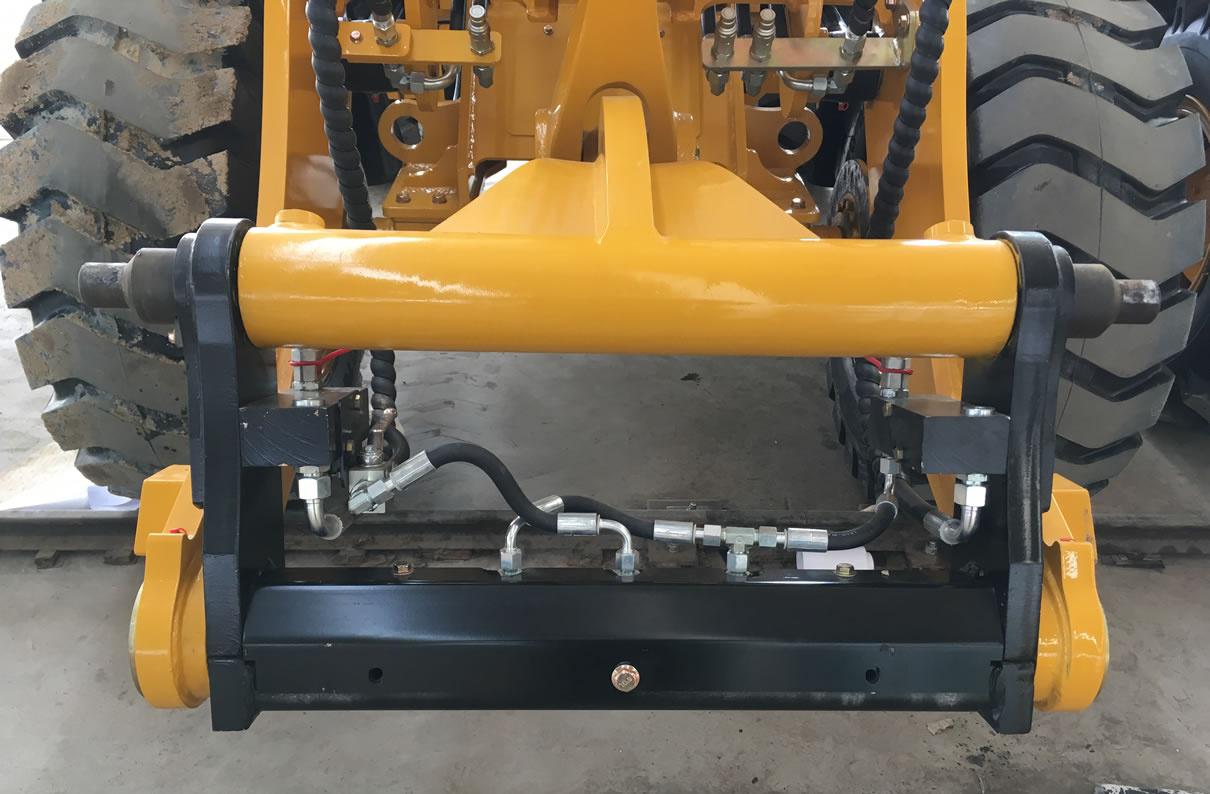 As different jobs require different tools all Heracles loaders are built with Heracles Quick Change System.
This hydraulically power system allow operators to move from one task to the next without having to leave the
comfort of their seats.
7, EASY MAINTENANCE: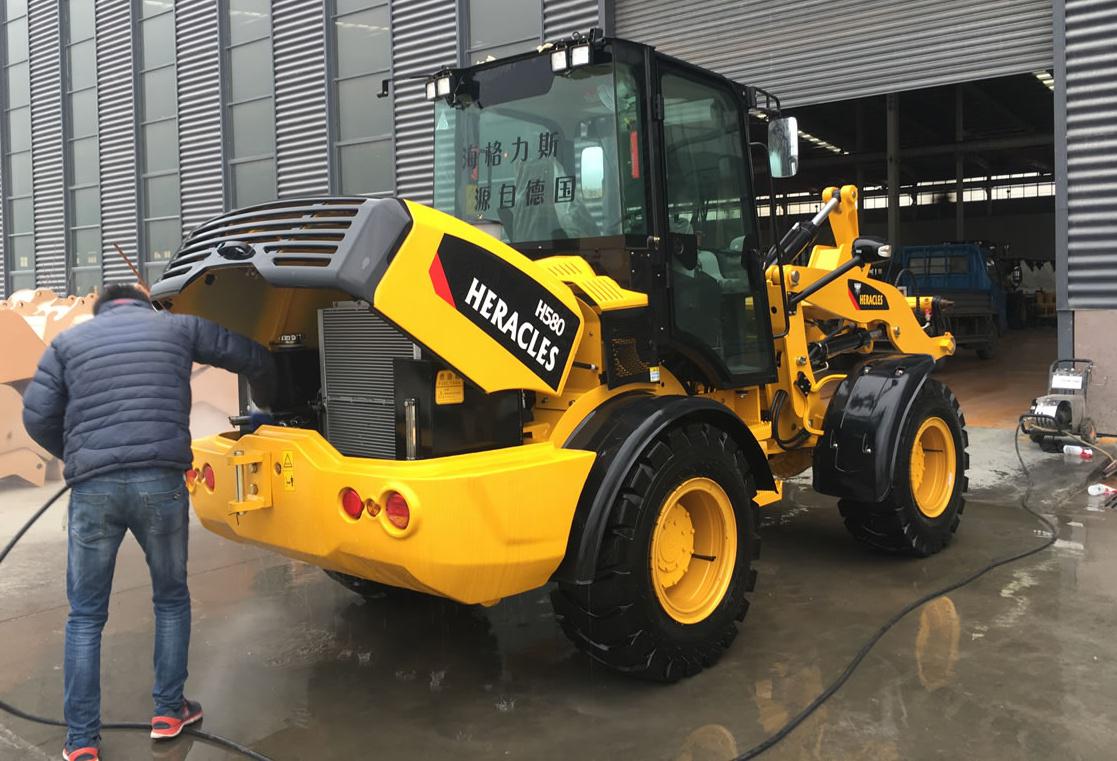 SIMPLICITY
H-series Compact Wheel Loaders have been specifically built to make maintenance and repairs as easy as it gets.
There are no complicated electronics or sensors - instead simplicity has been central in designing the new H-Series models.
DAILY CHECK-UPS
The easy to follow daily check-ups and accessibility of components makes it extremely easy to locate any possible issues which may arise.
The easy access of all parts makes changing parts fast and simple.
OPEN-UP HOOD
The hatchback rear hood has not only been redesigned to improve rear-view but to improve ventilation to the engine
as well as access to it. By opening the new rear hood to 90° operators have full access to the engine.
8,SAFETY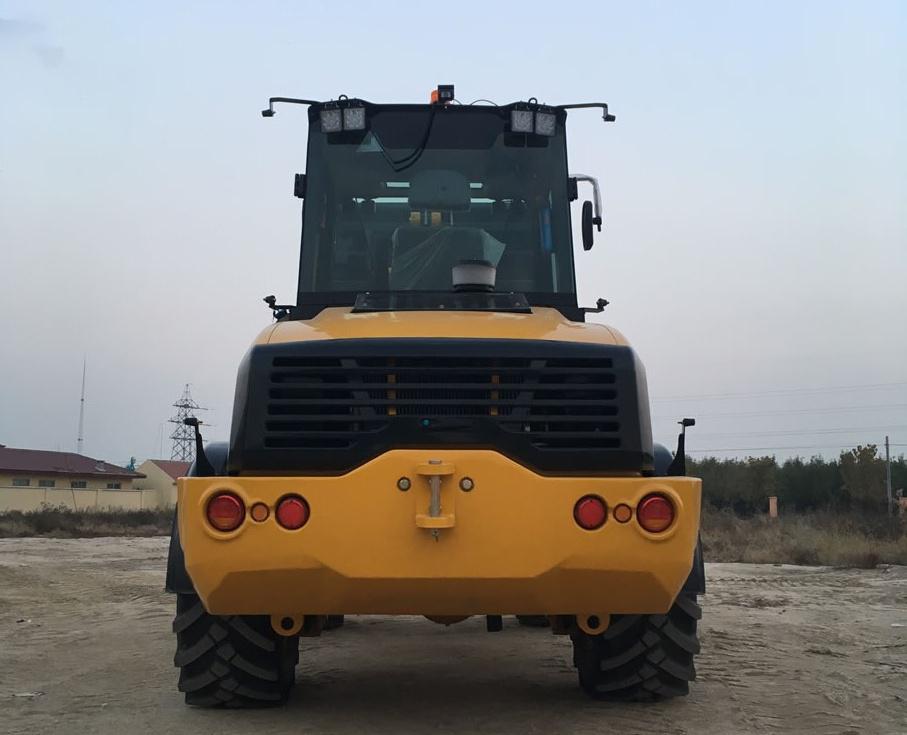 ROPS / FROPS
Safety is Heracles top priority. Heracles Cabins are designed with ROPS and FROPS to guarantee the operators' safety. All the operator has
to focus on is the task at hand.
ARTICULATED JOINT
The Articulated Joint structure allows the H580 to be extremely stable on uneven terrain allowing for angles up to 45° - all four wheels to
be in constant contact with the ground.
REAR VIEW
The Hatchback Rear Hood design and rear-view camera system provide the operator with perfect rear vision allowing him to easily detect
low objects. Reinforced counterweights provide extra protection to both the operator and the loader.
9,Heracles loader Main specifications:
Performance

Model

H580

Rated loading

2800kg

Max loading

3500kg

Operation weight

5970kg

rated bucket capacity

1.2m3

Max. tractive force

≥54KN

Max. breakout force

≥45.4KN

Max. grade ability

30°

Max. dump height

3300mm

Dump distance

930mm

Overall dimension (LxWxH)

6170x2040
x2695mm

Min. turning radius

4510mm

Engine

Model

CHINA
XICHAI 85KW
(Turo ) ENGINE ;

Cummins
or EPA 4 engine
for Option

Type

Vertical, in-line,
water cooled,
4-cylinder, turbo type

Rated power

85KW / 2400rpm

Max. torque

285N.m

Displacment

3.76L

Transmission system

Torque converter

ZL280

Gearbox mode

Contershaft,
power-shift

Gear shift

2 forward (
1 high speed,
1 low speed),
1 reverse

Max. speed

35km/h

Drive axle

Main reducing spiral

Circular Arc Bevel
gear, single stage

Decelerating mode

Single stage
planetary type

Wheelbase

2470mm

Track base

1570mm

Min. ground clearance

390mm

Hydraulic system

System working pressure

16Mpa

Boom lifting time

4.8s±0.2s

Total time

9.2s±0.5s

Fuel tank capacity

80L

Function of leveling automatically

Yes

Brake system

Service brake

hydraulic disc
brake on 4 wheels

Parking brake

flexible shaft
operated
external drum

Tyre

Tyre size

16/70-20

Front tyre pressure

0.22Mpa

Rear tyre pressure

0.18Mpa
HERACLES H