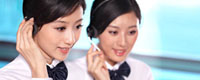 Tel: +86-13165000892
E-mail: [email protected]
E-mail: [email protected]
Add: Shandong,China



Product name : Mini Loader H180

Product No. : 2019226212928
Details:
HERACLES – H180 MINI LOADER


HERACLES H180 Mini Loader is the ideal choice for those looking for a skid steer with all the benefits of an articulated wheel loader. It's compact articulated design with tight turning radius allow customers to get the job done quickly through tight areas which otherwise would be inaccessible. Its advanced dual-speed hydrostatic system is powered by a YANMAR 28kw (38 hp) diesel engine, giving customers even more muscle power. Its great performance and 800 kg (1767 lb) lifting load has made the H180 one of the best mini loaders in the market today. Making it our most successful series to date. With over 40 attachments to choose from the H180 mini loader is also one of the most versatile machines customers can get their hands on.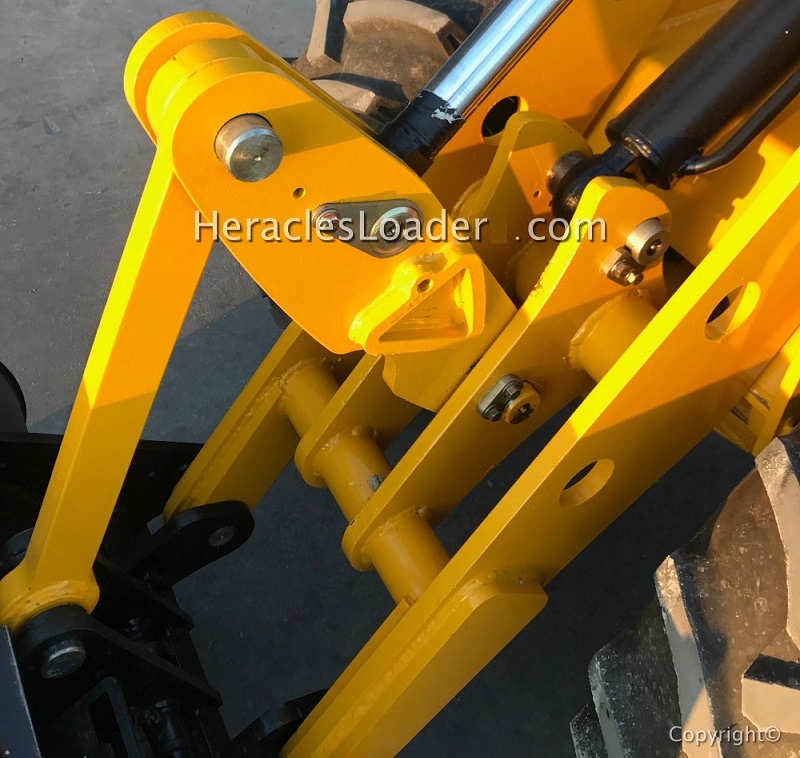 1,
HERACLES H180 MINI LOADER
ENGINE
YANMAR motor's outstanding reliability and easy maintenance give customers the peace of mind they deserve when purchasing the H180 mini loader.
HERACLES H180 MINI LOADER
Engine: YANMAR
HERACLESLOADERS H180
Power: 28 kW / 38 hp
HERACLESLOADERS H180 Max. Torque: --- N. m
HERACLESLOADERS H180
Max Speed: --- rpm
HERACLESLOADERS H180
ISO 9242: 28 kW / 96 hp
H180 heracles loader Diameter: --- mm
H180 HERACLES LOADER
Stroke: --- mm
H180 HERACLES LOADER
Displacement: --- L
2,
Heracles H180 mini loaders
CABIN
H180 wheel loader
COMFORT
No corners have been cut when designing the H180 mini loaders. Customers notice this right away the first time they step into the loader.
The H180 unique design ensures maximum round visibility. The seats position and narrow loading arm with a centrally placed single hydraulic cylinder allows for leading class vision while maintaining maximum stability due to the H180 mini loaders' low centre of gravity.
4,
Heracles machinery
OPERATING
When operating your loader, whether it is driving, lifting loads, or operating attachment while maneuvering through tight spaces, fine control really does mean everything. It is for this reason that we have ensured the users have all the best controls in the market at the their fingertips so they can keep their eyes on the road and their hands on the steering wheel. The advanced multifunction ergonomic joystick allows users to effortlessly choose forward and reverse directions with two driving speeds. Hydrostatic drive is now standard with all H180 HERACLES loaders allowing for an ever smoother drive. The auxiliary controls make operating attachments extremely easy and fast.
5, heracles H180 FLOATING SEAT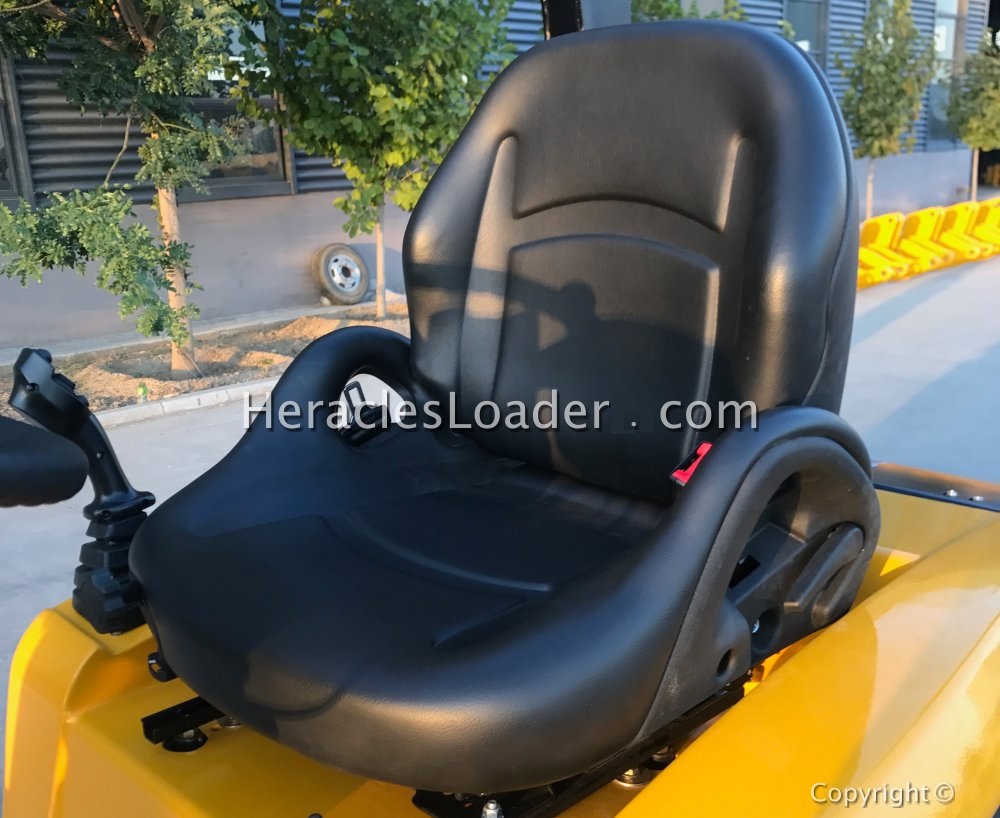 HERACLES seats guarantee unparalleled levels of comfort when it comes to reducing bumps. As the H180 is designed for non-stop working hours we have ensured maximum smoothness. HERACLES seats can be easily adjusted regardless of your height or weight.

6, Hercules H180 Compact wheel loader DASHBOARD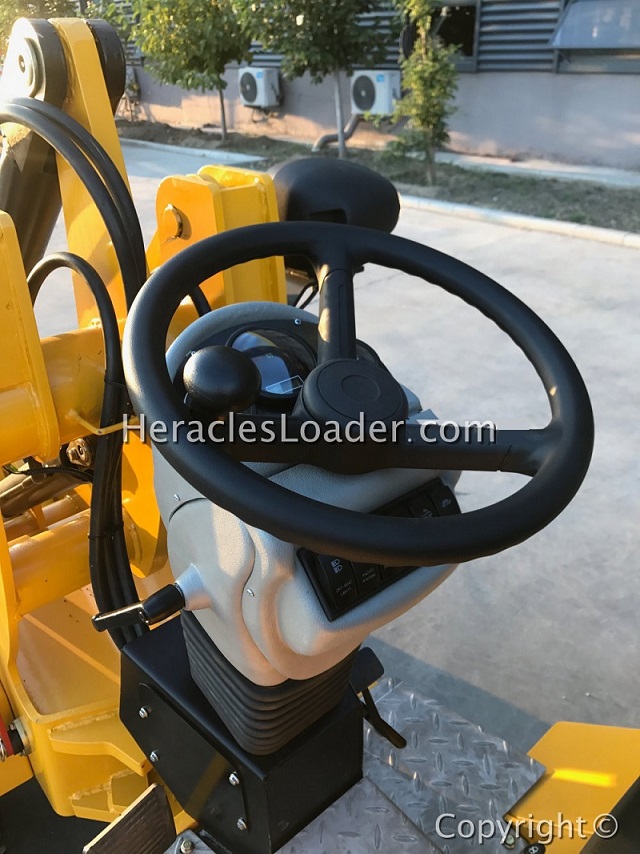 The LED and analogue control monitors are place right in front of the driver. These keep the user updated on the loaders status and maintenance requirements.
7, PEDALS
Simplicity being one of HERACLES engineering priorities the H180 mini loader is extremely easy to drive. With its gas pedal on the right and brake pedal on the left, even inexperienced users can operate the loader effortlessly.

8,HYDRAULICS, AXLE, BRAKES
At HERACLES we understand the importance a high quality and efficient hydraulic systems when it comes to building market leading loaders. It is for this reason that the H180 Mini Loader's hydraulic components are only sourced from leading brands.
YANMAR's 28 kW, pumps and hydraulic system work in perfect synchrony in order to deliver maximum power and faster working cycles allowing users to be much more productive in the same amount of time.
9,Heracles H180 mini loaders HYDRAULIC SYSTEM
Main valve pressure: --- bar
Bucket Breakout force : 20.5 kN
10,AXLES
High quality axles are crucial which it comes to building excellent mini loaders. Not only must they carry heavy loads but they also have to convert the high torque of the hydrostatic power into pushing power.
It is no secret that one of the H180 mini loaders' great success is it's superior pushing power. In order to achieve this we design and build original HERACLES axles. By doing so we have complete control over their quality, ensuring users with optimum performance year after years.
11,DRIVE
The advance driving system allows for effortless and smooth driving no matter the terrain.
12,BRAKES
Safety being our top priority, at HERACLES we have left no stone untuned when designing the H180 mini loaders's breaking system. Its hydraulic braking system in both the front and rear axles ensure smooth and efficient braking.
13,H180 heracles STRUCTURAL DESIGN
HERACLES' expert team of engineers with over 20 years of experience in building construction machinery have developed what is by far the best value for money mini loaders in the market today. Its 2000 kg (4410 lb) operating weight, strong front end structure allow for greater breakout and lifting forces.
14,STABILITY
HERACLES' mini loaders articulating joint structure not only maximized the loaders stability but it also improves comfort and productivity.
Stability is maximized as traction maximized. The oscillating articulating joint structure design allows all four wheels to stay on the ground over uneven terrains.
At the same time the user's comfort is also significantly improved. The oscillating articulating joint structure minimizes the amount of bumps the user will feels while operating the loader - thus allowing for a much smoother drive. More traction also means more power, speed and thus increased productivity.
15.DRIVING POSITION
The driving portion is located at the rear. This has a number of benefits. First, it makes reversing much easier and faster as operators does not have to worry about the rear swinging into objects. In addition positioning the driving position at the rear also means much more space and comfort for the operator.
16.TIRES
The H180 comes with Standard, Narrow and Wide wheel options and well as with a number of tire sizes and threads according to the loaders main use. While the standard tires allow users to work in both uneven and flat terrains our the narrow wheels are for indoor facilities where maneuvering in tight spaces is important, while the wide tires are for rough and even grounds.